PASSPORT PHOTOS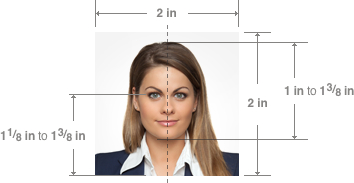 Your Photograph must be:
2x2 inches in size
Taken within the past 6 months, showing current appearance
Color
Clear
Full face, front view. Do NOT tilt your face to the left or right, or up or down
Plain white or off-white background
Free of shadows, blurriness, dots, and graininess
Not underexposed (too dark) or overexposed (too bright)
The photo should be of your face, neck, and shoulders only, with some blank space above the top of your head
Do not include your chest in the photo. Between 1 inch and 1 3/8 inches from the bottom of the chin to the top of the head
About 1/4 to 1/2 inch of blank space at top of the head. About 1/4 to 1/2 inch of the top of shoulders visible. See the first page of your passport application form DS-11 or DS-82 for a visual depiction of these requirements
Clothing must be normal street attire. Do NOT wear a uniform, a costume, etc
Religious attire is acceptable if it is worn daily. In this case, a letter of explanation must be provided
Do NOT wear a hat, headgear, or jewelry that obscures the hair or hairline
If you normally wear prescription glasses, a hearing device, wig or similar articles, they should be worn for your picture
Dark glasses or nonprescription glasses with tinted lenses are NOT acceptable unless you need them for medical reasons. A medical certificate may be required
;
Digitized Passport Photo:Non Acceptable Photos Examples:
If you choose to submit a digitized photo, it must meet the same requirements of all passport photographs. In addition, digitized photographs are always produced on digital printers. Some printers will produce a photograph in which the dots are seen. Visible dots distort the image by making it look grainy. Acceptable photos have a continuous tone image that looks photo-like.
;
Non Acceptable Photos Examples: